For this special action girls update, we have Tindra here, Now Tindra is a heavy weapons expert, and if you ever feel like knowing more about big guns, she's the person to go to. For this gallery she demonstrates the proper use of a Bazooka and shows off her perfect naked breasts as a bonus. Until the next update, enjoy, but in the meantime let's see this sexy babe have her fun today. So let's just see the cute and sexy babe tindra, showing you how to work the big metal bazooka today as she prances around topless.
After she's done displaying the weapon and what it can do, this superb blonde takes to taking off her tank top and showing off her perky breasts for the cameras and implicitly you today. So sit back and enjoy seeing her parade her luscious curves in front of your eyes with every picture this fine day. We're sure that you'll enjoy it and we'll be seeing you guys next week with some more fresh and hot content as usual. But in the meantime do take the time to enjoy this blonde cutie's little scene with her really big and heavy gun today!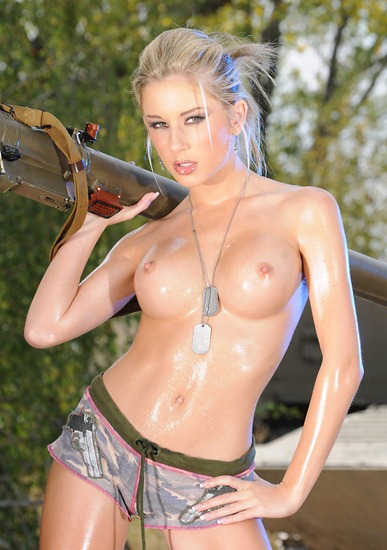 Click here and watch this British blonde playing with heavy guns!