Today actiongirls brings you the sexy shapes of Ashley Robbins. A busty girl that's more than meets the eye. She's a bounty hunter and you can see that she's always equipped to catch guys with her trusty handcuffs. Why don't you take a look at her gallery and see where she likes to hide most of her weapons. Hint: it's her body. Enjoy this superb and sexy leather clad babe and let's get her amazing and sexy scene started without delay today shall we? We know that you are eager to see her in action too.
And one can only think how she manages to keep such a big collection of knifes and other things concealed on herself. She loves getting naked for the camera every time she has the chance! But to be fair, we think that any guy that gets caught by this beauty doesn't mind it at all in the end. Well that's if she needs to capture you alive. Because then until she hands you over you get to keep her company every second. And with a super sexy body like hers who wouldn't want to do that! Anyway, enjoy and see you guys next week with more!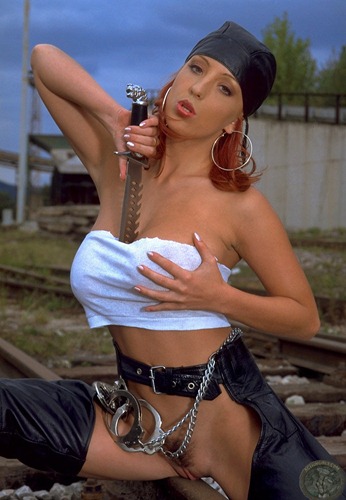 Check out this incredible European model playing with sharp objects!