In today's actiongirls pics update, Vanessa Upton makes her debut in our pantheon on action ready girls. She's new but don't let that fool you, as this silver haired vixen is ready to fend off any danger that comes her way with her trusty Berretta M9 semi pistol. So just enjoy this busty babe pose nude for the camera as she shows she's not a pushover in whatever she gets her mind set on doing. Well let's take the time to see the superb and sexy babe as she gets to have her fun posing around for you all sexy and badass as she is.
Vanessa Upton is here to show that she can mean business when she wants to and this was the perfect occasion for her to do so. She's armed and ready to put on a good show for you. But her weapons aren't the guns, but rather her superbly sexy and luscious body. And she's going to be using it to her advantage this time to entertain you. Watch her posing and teasing you and enjoy this amazing gallery with her for the afternoon. More will be here for you to see next week when we return everyone. Goodbye and enjoy! Also you can enter the http://cosplaydeviants.org/ site and see other gorgeous babes in great cosplay scenes!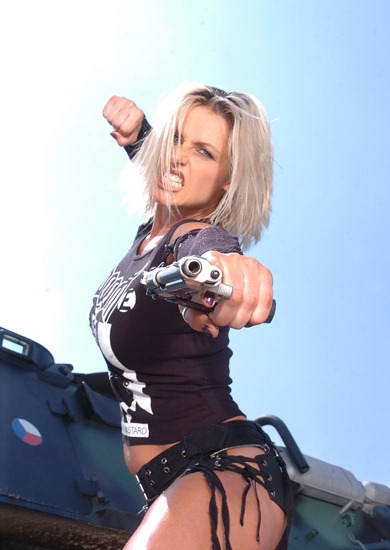 Check out as this British heavy metal blonde gets nude for the camera!